If you are interested to learn more about me, read this informal interview made in 2015 during my visiting stay at the Hitotsubashi University, Tokyo.
In general, I can say "I love traveling, studying languages, creative handmade and dancing". Meet the most important long-term passions of my life.
1) In every place I go, included the working reasons, I search for a milonga. I am a passionate tango dancer since October 2006.
Here in Regensburg, there is a pretty big tango-community. With a group a likely-minded people we also organize a three-day tango event "Smiling Angels' Tango Weekend". We help CAMPUSAsyl, a project that aims at integration of refugees into German society. After the second, spring-2016, edition we could transfer to CaAMPUSAsyl a check of 550 euro; in autumn-2017 it was already 1500 euros. Come dance with us, your contribution can make a difference!
My favourite festival of folk dancing is Gran Bal Trad in Piedmont.
<!–– Biking, jogging, and pilates are nice, but they give (me) not enough push for creativity while practicing them. The best sport ever embraces power training and dancing, and it is pole fitness. -->
<!–– If you are in Regensburg, do try it at
<!–– I hope, one day I will be reasonably good.. But there is still a lot of training needed. <!––
2) A slowly reviving handmade activity CaT-N-Go. This time I am also interested in upcycling and in creating comfortable home- and underwear.
The last big public success of CaT-N-Go was at the Tangomagia Festival in Amsterdam in December 2012. Let's see how where it leads me this time 🙂
P.S. Countries visited: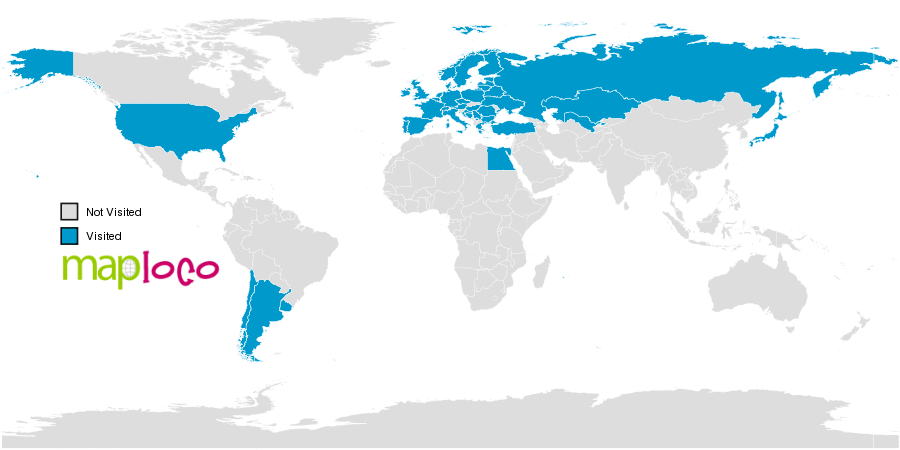 Create Your Own Visited Countries Mapited Countries Map