If you are interested to learn more about me, read this informal interview made in 2015 during my visiting stay at the Hitotsubashi University, Tokyo.
In general, I can say "I love travelling, studying languages, creative handmade and dancing". Meet the most important long-term passions of my life.
1) In every place I go, included the working reasons, I search for a milonga. I am a passionate tango dancer since October 2006.
Here in Regensburg, there is a pretty big tango-community. With a group a likely-minded people we also organize a small tango event "Smiling Angels' Tango Weekend". We help CAMPUSAsyl, a project that aims at integration of refugees into German society. After the spring-2016 edition we could transfer to CaAMPUSAsyl a check of 550 euro; in autumn-2017 it was already 1500 euros. Come dance with us, you contribution can make a difference!
My favourite festival of folk dances is Gran Bal Trad in Piedmont.
2) Biking, jogging, and pilates are nice, but they give (me) not enough push for creativity while practicing them. The best sport ever embraces power training and dancing, and it is pole fitness.
If you are in Regensburg, do try it at Rock'n'Pole.
I hope, one day I will be reasonably good.. But there is still a lot of training needed.
3) A slowly reviving handmade activity CaT-N-Go. This time I am also interested in upcycling.
The last big public success of CaT-N-Go was at the Tangomagia Festival in Amsterdam in December 2012. Let's see how where it leads me this time 🙂
P.S. Countries visited: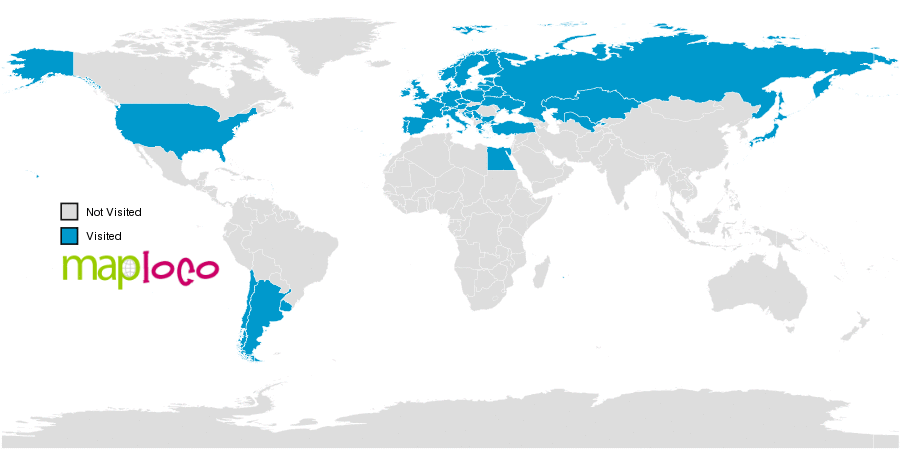 Create Your Own Visited Countries Map